Disaster Prevention Information Distribution
Communication from the Disaster Management Administration
In November 2020, a communication distribution service regarding disaster prevention information was implemented.
This disaster prevention communication is a part of a mail service by which you can receive all information related to disater prevention broadcasted to your smart phone or other registered device.
In addition to Japanese, information can be received in the following languages:
English
Simplified Chinese
Traditional Chinese
Korean
Vietnamese
Portuguese
Registration is free, but standard messaging data rates may apply. If any, additional charges will be paid by the user.
Disaster Management Administration Broadcast Information
The Disaster Managament Administration broadcast communication includes information related to the following topics:
・Disaster prevention
・Civil protection
・Fires and Other-Related Incidents
・Crime
・Life Line
・Government
・Training
・System Maintenance (including tests)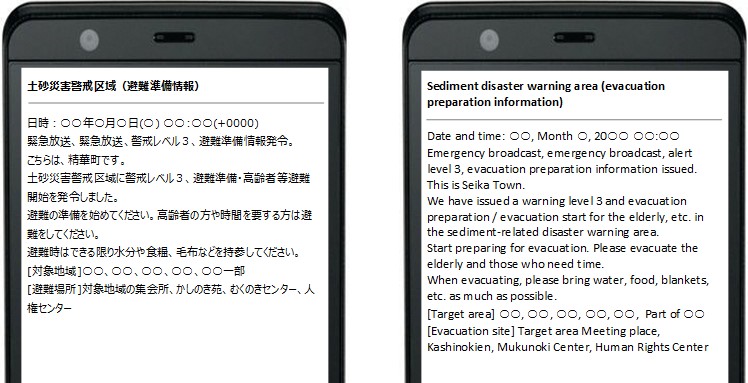 How to Register
You can register, submit change requests, and cancel your subscription from each repective language page.
日本語ページ

English Registration Page

中文注册页面

中文註冊頁面

한국등록페이지

Trang đăng ký tiếng việt

Pagina de inscricao em portugues

この記事に関するお問い合わせ先

総務部 危機管理室
〒619-0285 京都府相楽郡精華町大字南稲八妻小字北尻70番地

電話番号:0774-95-1928
ファックス:0774-93-2233
メールフォームによるお問い合わせ